How to install Foobar, USB Drivers and the WASAPI components?
In other words.... how to make sure your PC is set up right, in order to get the MAX out of your DDDAC 1794?
Images tell more than a thousand word, so below you will find a series of screenshots, from which I believe they tell it all. Just to make sure, I use Windows 7 and I strongly recommend not using Windows XP for all kind of reasons, but at least for the simple fact, that the WASAPI component is not supported... And you really want this... The sound difference is very significant!
First steps and check-list
Make sure there are no old installations of Foobar or the USB module
I recommend to start from scratch (de-install any old software and drivers first)
Connect the USB Module to your PC and for now ignore all messages...
Download the Foobar, Wasapi and USB Drivers from my download section "Drivers and Tools"
(click here)
Follow the steps below
After downloading all files you can start with the Foobar installation
You will get the dialog above and from here keep clicking the normal steps till you arrive at the next stage below point
Change anything you like during these steps, that is just personal settings, no sound influence...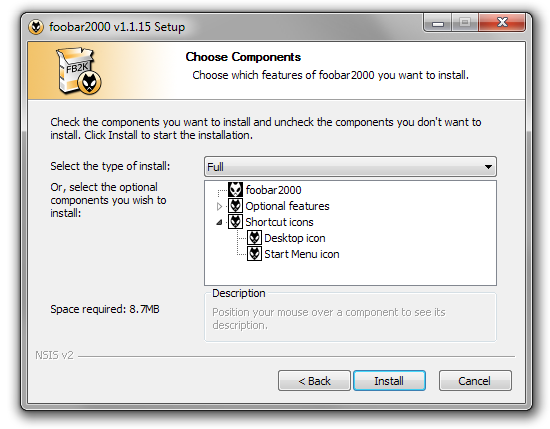 Here you can choose for Full or Normal or whatever
Again, just personal settings
I decided for a FULL installation...
Keep going and clicking till the installation is ready
Then start the WASAPI component (shown as: "foo_out_wasapi.fb2k-component")
You will get the above dialog box, just say "Yes" or the equivalent in your language (in my system it is "Ja" ;-)
After the installation is done you should receive the above screen. Now do the following:
Check if the screen shows the actual last point, highlighted in blue
Click the "Apply" button, now WASAPI will be installed
Foobar will need to be restarted to take effect
Now go for the next step and install the USB Driver (remind yourself to have the USB Module connected to your PC (and power = on))
The USB Drivers come as a Packed File ( RAR ): "DDDAC_drivers.rar"
Unpack this File with a suitable "unpacker-program" (I use 7-Zip, but there are many, or it is already standard available in your system)
Make sure the USB Module is connected to your PC
Run setup.exe
From here you can click your way through till the end, no special user input is required
If for whatever reason the module is not connected or is powered on (!) you will have the warning below... Start over again
Messages like below can be ignored all the time...

Give the above a bit time.....
This message will pop up on the taskbar and is a kind of confirmation all went well :-)
This message tells you things were successful
Final screen ....
Click "Finish"
That was all ...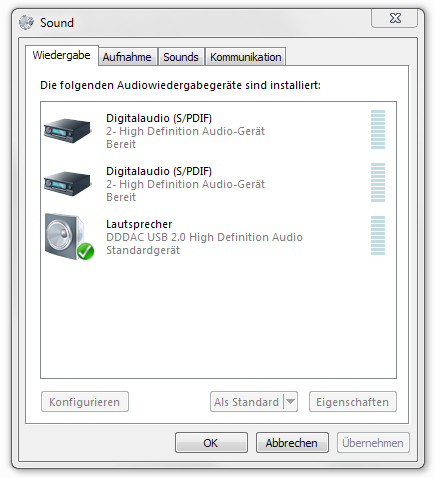 Now we have to make sure Windows is also configured correctly, which it is NOT at this point!
My examples are in German, but you will find similar dialog boxes in your own language. I am sure it will be clear!
First go to the Windows Menu and select the system settings / control "Systemsteuerung" or similar
There select "Sound" or similar
The above dialog screen will appear...
As you can see, Windows assign a standard name to the USB Interface. In this case "Lautsprecher" We will change this later
To come to the settings, just double click on the DDDAC Symbol and the next screen will pop up
Here you can give a new name and select a new symbol
I called it DDDAC PCM1794, but feel free to select anything else or more personal (like Donald DAC? ;-)
With the button you can select any other icon you like. I liked the icon looking like a piece of Audio equipment....
now click the next TAB (here "pegel")
It should look like the above, just check if the sound level is at 100%
The same for this TAB, just checking if it looks like above
The last TAB is the crucial one. Here normally is 16 Bit, 44100 Hz (CD Quality) selected, which we do not want obviously...
Use the pull down menu to select 24 Bit, 192000 Hz
Check if both boxes are ticked, as this is key for bit perfect streaming
After confirming your sound dialog box should look something like this!
Click "OK" to close the dialog
One final check on Foobar, where we now can select the right "Sound Device"
Select File - Preferences from the menu or just press Ctrl-P
At the Device pull down select the DDDAC device. Recommendation is to use (WASAPI (event).
I tried (push) as well and could NOT find any difference...
Make sure to select 24 Bit (!) from the Output Format
Buffer length I have no real clue. I use 1000ms and this works fine for me. 50ms gave hick ups... (who knows more or better, just tell me!)
Press OK and you are ready to go :-)
I hope this was of help and everything works fine now :-)
Just a closing note: for other audio players, the setup of the USB drivers and the Windows settings are (of course) exactly the same....
PS: Foobar "replaygain" settings...
This is something I noticed later on. Foobar has settings to actually do special gain settings. Well, that is something in bit perfect streaming we want to avoid !!! Therefore make sure the corresponding settings look like in the image below:
to get there, select the menu point "Playback" this above -DSP manager- and -Output-
Keep reading ...... the story continuous with the power supplies ( power supplies )